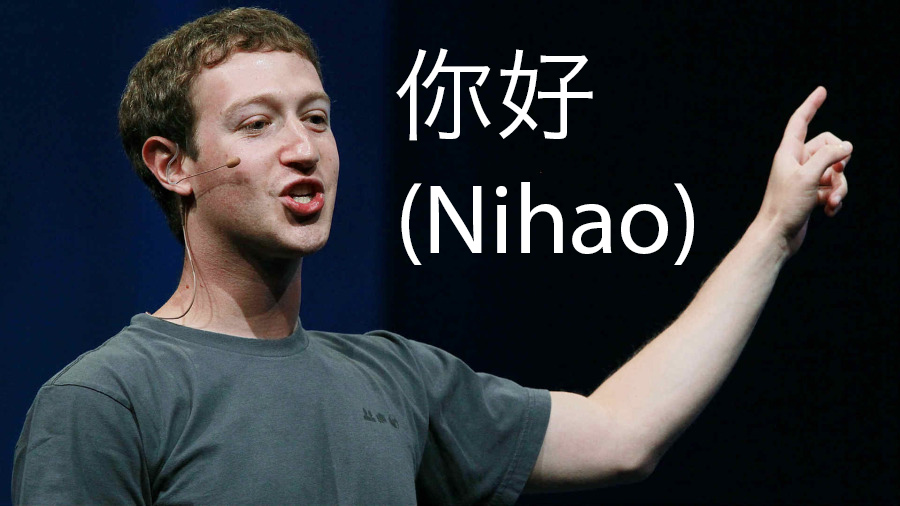 Just over a month ago while speaking at Tsinghua University in Beijing, Mark Zuckerberg wowed the world by speaking Mandarin. He spoke for 20 minutes in the Chinese language, even managing to crack jokes. Mark Zuckerberg sets himself one personal goal every year and, in 2010, it was to learn the Chinese language.
2009 was the year he vowed to wear a tie every day for a year
2010, it was to learn the Chinese language
2011 was the year he vowed only to eat meat during that year that he'd slaughtered himself, claiming that it would deepen his appreciation of food if he understood more about that process
2012 his goal was to spend some time coding – to return to his roots
2013 he wanted to meet a new person, outside Facebook, daily
2014 to write a thank-you note every day of the year
2015 was to read a new book every other week – with an emphasis on learning about different cultures, beliefs, histories and technologies.
In business, before achieving any kind of success, you need to know what you hope to accomplish. This is why goal setting is so vital. Nearly every successful person in history was an obsessive goal setter, since he or she knew the importance of clearly stating desires and actively pursuing them. About 350 years ago, a Japanese philosopher, Miyamoto Musashi, wrote, "When you embark on something, fix your intentions, and leave selfishness behind you, then you cannot fail." Musashi was writing about something now widely known as goal setting. I am a firm believer in this practice.
What do you really want for yourself? What would you be most excited or enthusiastic about achieving? If you could only accomplish one goal, and it were guaranteed to succeed, what would it be?
What Is Goal Setting?
If you can dream about achieving a goal, you can achieve it; but you need to know how to set goals. Goal setting is not just deciding what you want to do and trying to reach it. It is a focused plan based on proven methods to achieve desired results, including a predetermined set of rules and regulations. Not an esoteric science with hundreds of complicated formulas, goal setting is incredibly simple once you allow yourself the time to do it well.
One of the World's Greatest Goal Setters
One man who has inspired millions of people to the power of goal setting is John Goddard. One rainy afternoon this inspired 15-year old boy named John Goddard sat down at his kitchen table in Los Angeles and wrote three words at the top of a yellow pad, "My Life List." Under that heading he wrote down 127 goals.
These were not simple or easy goals. They included climbing the world's major mountains, exploring from source to mouth the longest rivers of the world, piloting the world's fastest aircraft, running a mile in five minutes and reading the entire Encyclopedia Britannica.
Called "the real-life Indiana Jones" by the LA Times, Goddard will be remembered as the world's greatest goal achiever and survivor of numerous edge-of-death experiences through his 88 1/2 years of life.
Here are some of Goddard's accomplishments:
He retraced Marco Polo's route throughout the Middle East, Asia, and China.
He rode in the Rose Parade and visited the Great Wall of China, the Okefenokee Swamp in Georgia, and the Florida Everglades.
He was the first man to explore the length of the world's longest river, the Nile; and he kayaked down the Amazon, the Congo, and others.
He withstood charges by hippos, crocodiles, a furious warthog, and bloodsucking leeches.
He survived plane crashes, earthquakes, three struggles with quicksand, two near-drownings, and an appendicitis attack 200 miles from the nearest health care facility.
He climbed Mounts Ararat, Kilimanjaro, Fiji, Rainier, and Matterhorn, and the Grand Tetons.
He visited 120 countries, learned to fly a plane, explored the coral reefs of Florida, the Great Barrier Reef in Australia, the Red Sea, and more.
He flew 47 different types of aircraft and set several civilian air-speed records, including one at 1,500 miles an hour. He flew an F-106 to an altitude of 63,000 feet, making him the only civilian to pilot an aircraft that high.
John Goddard's success can be attributed to two specific actions: He set goals that drove him beyond familiar roads, and he wrote them down.
The Ten Commandments of Goal Setting
You shall set big goals. When the goals you're aiming for are lofty, then you will develop thoughts, actions, and habits to help you achieve them. This self-development will become the foundation of your success. Big goals drive change, from which emerges the need for growth.
You shall write down your goals. A wise man once said that a goal that is never written down is only a wish.
You shall set your goals as early as you can. Goddard started at 15. Start now and write your goals down. As the entrepreneur and visionary Walt Disney said, "Don't wait another day, "A person should set his goals as early as he can and devote all his energy and talent to getting there. With enough effort, he may achieve it. Or he may find something that is even more rewarding. But in the end, no matter what the outcome, he will know he has been alive."
You shall break your goals down into bite-sized mini goals. Perhaps the most difficult part in setting goals is breaking them into manageable daily, weekly, and monthly bite-sized goals. For example, if one of your goals is "To be my ideal weight, have an athletic, fit body and eat food that is both nutritious and healthy," then you must act every day, week, and month to make that a reality. Your plan may involve walking daily for forty-five minutes, lifting weights three times a week, and seeing a dietician to formulate a monthly eating plan.
You shall visualize it. Put a Sticky note on your mirror or computer screen and look at your goals everyday. Take a moment to reflect upon each of your achievable aspirations. Picture what it would be like to already be there. How does it feel, look, and smell? See yourself there and you will be.
You shall start with what you have. For example, you may have a goal of developing a retreat center for abused children. You have no money, nor even an idea of what such a project entails. Start with what you can do. On your day off, visit a real estate agent to talk about properties on the market, the size that would be required, and necessary permits. Or search the Internet for people already doing this and contact them. Or visit an established center and serve as a volunteer on your holidays. Research and learning are free.
You shall understand your personal rhythms and cycles. Everyone has natural rhythms and cycles, be they daily, weekly, or monthly. Do you know your rhythms and cycles? I recall reading about one of history's great opera singers. She understood that to reach her goal of performing her best she needed to understand her cycles. In learning about her preparation, peak performance, and recovery she not only reached her goals but maintained them over a career spanning several decades. For example, perhaps you notice that you are most alert, intelligent, and decisive in the morning. You may also discover that early in the week you may be more analytical, but later in the week you are more creative. To achieve your goals, learn to work in harmony with such cycles.
You shall set deadlines. In order to stay on target with goals, it is important to set specific deadlines. Be certain, in setting deadlines, that you under-commit and over-deliver. Wise King Solomon once wrote, "Hope deferred makes the heart sick" (Prov. 13:12a). If you keep promising yourself something and it never happens, eventually you will grow despondent. Instead of a positive effect in life, your goals can turn into a negative consequence.
You shall be decisive. Success is a choice. Don't achieve your parents', partner's, children's, or best friend's goals. Decide what you want, why you want it, and how you plan to achieve it. No one else can, will, or should do that for you.
You shall just do it. Action is a powerful force. Sometimes the greatest thing I have done has been to get out of my chair and take action. Some people are waiting for a sign or a feeling. Or they are waiting until they have enough money, education, and opportunity before acting. Instead, assume nothing is coming, and no one will help you. Set your face like flint, grit your teeth, and vow, "I am going to climb that mountain."
Throughout my life, I have found great inspiration from listening to successful people,  reading their life stories and listening to positive quotes (CLICK HERE for my 515 Best Positive Quotes Ever). I recall a story told by sales guru Zig Ziglar, "Many years ago three climbers set out to scale the North Wall of the Matterhorn, one of the most dangerous climbs on the planet. Beforehand, a reporter asked each of them, "Will you successfully climb the North Wall of the Matterhorn?" The first one said, "Well I am going to give it my best shot." The second said, "Well I am going to try hard." The last one said, "I will climb the North Wall of the Matterhorn." Only one of them succeeded—the one who declared in advance that he would.
In closing, there is one quality that stands above all else when it comes to achieving your goals – attitude. As Zig Ziglar said, ""It's your attitude, not your aptitude, will determine your altitude."
—Chris Gaborit is a serial entrepreneur who has built three successful companies without seed funding. For most of his life, Chris has traveled the world inspiring ordinary people to achieve extraordinary things. He believes that within every person is a destiny and calling that can be realized, released, and remarkable. He is cofounder of The Learning Factor, an outsource training company that delivers leadership training to Fortune 500 companies globally. Chris regularly writes for The Sydney Morning Herald, LinkedIn, and FastCompany. Find him on Twitter and LinkedIn.