Drones have become standard tools in many markets today. Whether in sports, showing a home for sale, on the news or in a Hollywood movie, we see drone footage daily.
But did you know that companies are now using drone footage in training videos for their employees?
Chris Gaborit, Managing Director of The Learning Factor, went so far as to become a CASA (Australia's FAA) Certified drone pilot and is finding more clients are using drone footage in eLearning modules.
Chris said, "Drone footage allows you to take your employees and customers on a ride tell them a story from a different perspective. We recently developed an 'Induction for Ship Captains' for one of the world's largest Gas Companies for every ship that comes into port. From the air, the drone footage shows how the 4 tugs are going to turn the ship in the narrow channel; various views of the ship being docked and safety equipment."
Here are 4 reasons drone footage is becoming more in demand in eLearning:
1.    Engagement is king. Millennials and Gen X have been brought up on HD quality, fast-moving movies, TV and video games. They expect their learning to reflect these same qualities. To keep them engaged.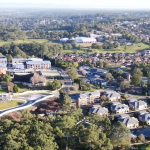 2.    A fresh view. We can see things like never before, whether a ship being turned 180 degrees by four tugs so that a ship captain can see what to expect as he comes into port, or an employee viewing the company headquarters from 400 feet as they sit in another part of the world.
3.    Powerful openings. The first few minutes either make or break learning and nothing beats high-quality, cinematic flyover videos to capture the moment. Look above at this opening video and also click here to show some other recent drone work The Learning Factor has done. Companies are using the drone shot of their headquarters or over their people to capture attention and set the scene for great eLearning.
4.    Unlimited versatility. Drones can fly millimetres off the ground or hundreds of feet in the air. They fly fast, slow, circle, rise and hover. Even simple tasks, like recording a face-to-face interview, can easily be made more dynamic and engaging with a camera-equipped drone hovering nearby. One of The Learning Factor clients even wanted us to fly a drone up the stairs of their headquarters and into their reception!
5.    Price. A few years ago to get these shots one would have to hire a helicopter and that was hugely expensive but with you can not only get closer and videos, it comes at a fraction of the price and time.
You should consider using drone footage to showcase your company and build your brand awareness in your eLearning induction as well as other marketing and education you are developing. It enhances the visual look and engages the audience.