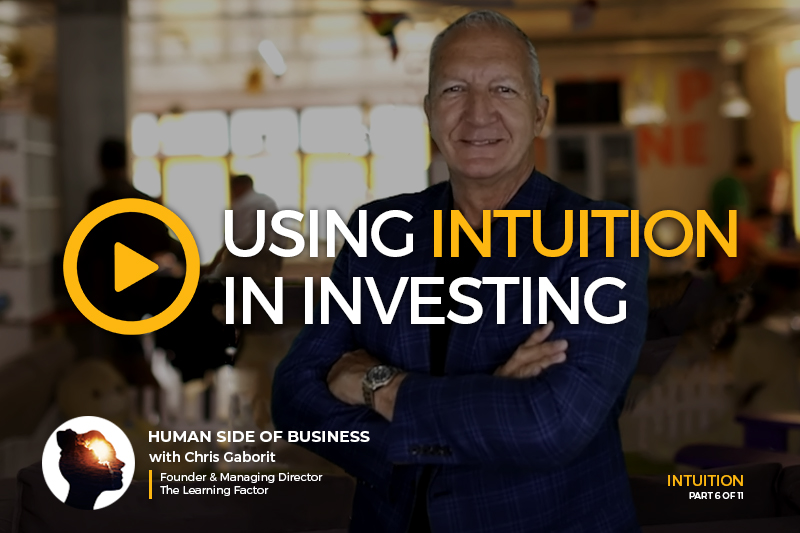 As we progress through the series of videos on intuition with Chris Gaborit, we start to see how intuition can be a vital guide in our business decisions. In the latest video, Chris walks us through examples of some of the most successful investors today and how intuition has been the essential driver to their success.
There are two important sayings when it comes to effective, intuitive investment decisions: "know your business" and "know yourself". Successful investors testify again and again to trusting intuition and gut feel above all else.
In his examples, Chris describes a process that successful investors follow which brings together intuition and research:
1. Search their intuition to see which companies come to top of the mind
2. Search for confirmation from external sources such as news or data
3. Notice that intuitive feelings stay with them – despite what the research might tell them. Intuition grows stronger
4. Zoom in on their intuition to examine certain aspects of the company, especially potential danger
The best investors rely on their gut feel to guide every decision. They practice intuition at every turn to ensure they are masters of the process. In this video, Chris demonstrates that the more you train and use your intuition, the more successful you will become as an investor.
Watch this video to learn how to use intuition to give you a real advantage over your competitors.
Enjoy the series
---
At The Learning Factor, we simplify the business of learning. We craft exceptional training solutions that solve critical business challenges across all touch points, screens, and devices.
If you have like what you have read, we would love to hear from you. You can chat with us LIVE between Mon-Fri 8.30am-5pm AEST via our website – https://learningfactor.com.au/
You can also follow Chris on LinkedIn:
Personal: https://www.linkedin.com/in/gaborit/
Company: https://www.linkedin.com/company/the-learning-factor/