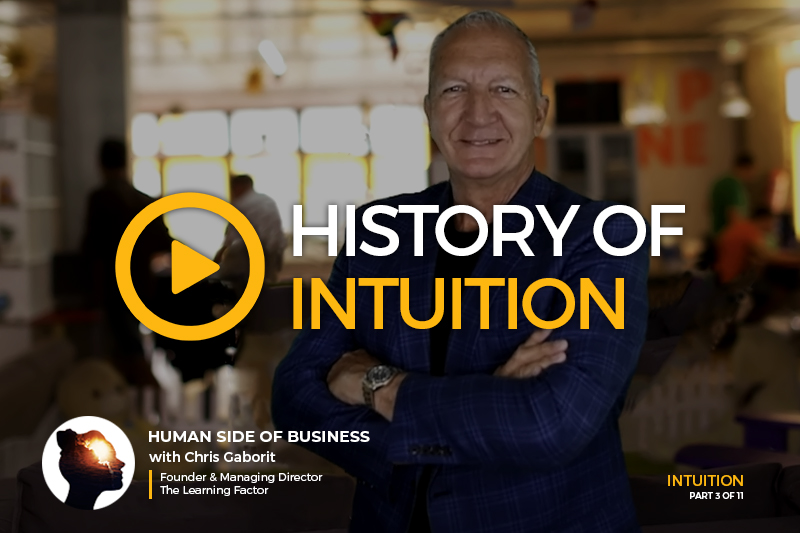 Chris Gaborit continues his new series of videos on intuition with a focus on gut feeling in the history of decision making. As a well-travelled and experienced L&D professional, Chris has learnt the value of his combined experiences in informing his gut instinct on an everyday basis.
Chris points to the similarity between intuition and big data: intuitive decisions are a result of your body's own algorithms processing millions of data points every day.
40% of CEOs make decisions based on intuition: their own version of big data.
Listening to the "voice of wisdom" goes back to Plato and Aristotle. Whether we are dealing with "Divine Madness" (Plato) or "intuitive reason combined with scientific knowledge" (Aristotle), Chris highlights the long and successful history of leaders trusting their inner voice.
Chris uses two examples from more recent history to teach us the value of intuition in making, and losing money:
1. The Getty Kouros: The Getty Museum in Los Angeles fell foul of a forgery in the form of a statue, for which they paid millions of dollars. Experts doubted authenticity and were reassured by high-tech analysis. Indeed, they were proved right – but not until several years later, losing a vast sum for the collection.
2. Steve Jobs and the iPad: Despite everything pointing to the prominence of the PC, Jobs launched the iPad in 2010. He was certain in his intuitive belief that the tablet would be bigger than the PC – proven correct, 350 million iPads later.
Chris promises to deliver exercises later in the series to help anyone listen to their inner voice, sense or feeling to help you succeed and avoid making bad decisions. Join Chris for a fascinating lesson in intuition through the ages.
To continue watching the series on Intuition in Business – click here