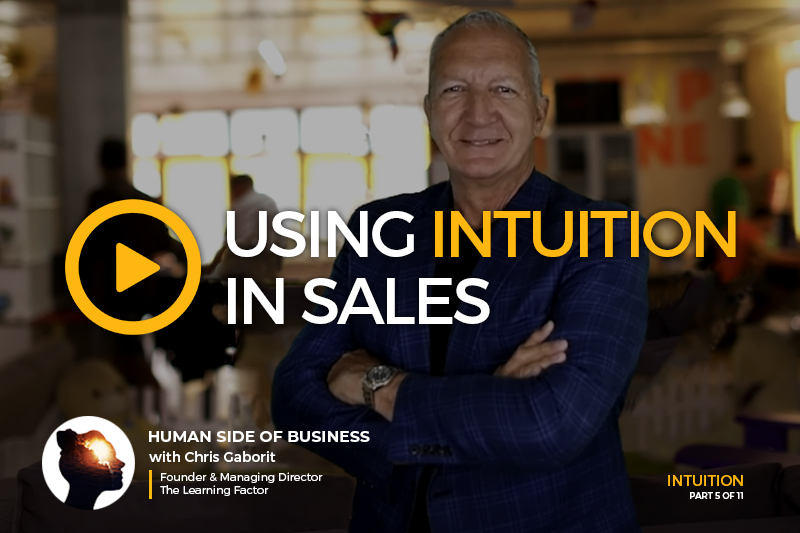 We continue to focus on letting intuition guide our business decisions. This time, Chris walks through some of the important advantages that can be gained in marketing and sales by relying on intuition. He describes the special power that intuitive salespeople have that make them stand out from the crowd.
Chris starts off with another personal example – this time, when he brokered an important deal for a new company he was starting. Despite negativity, and dismissal at every turn, he stuck with his gut and persisted with the client he wanted. He was able to secure the client and begin a successful ongoing relationship with them.
The key here is that intuition sticks with you, grows stronger and continues to guide you to the right outcome. Your job is to acknowledge and trust your intuitive abilities.
Chris summarises how intuition benefits sales and marketing decisions in three ways:
Never judge a book by its cover. Impressions can be deceptive. Intuition is a much better judge as it recognises the heart and motivations of other people.
Intuition is tomorrow's news. Intuition tells you something you wouldn't otherwise know.
Use your business development time scanning companies in your intuition. When considering who to do business with, or which companies to purchase, ask yourself questions. Trust your intuition to give you the right answers.
Watch this video to learn how to use intuition to give you a real advantage over your competitors.
Enjoy the series
---
At The Learning Factor, we simplify the business of learning. We craft exceptional training solutions that solve critical business challenges across all touch points, screens, and devices.
If you have like what you have read, we would love to hear from you. You can chat with us LIVE between Mon-Fri 8.30am-5pm AEST via our website – https://learningfactor.com.au/
You can also follow Chris on LinkedIn:
Personal: https://www.linkedin.com/in/gaborit/
Company: https://www.linkedin.com/company/the-learning-factor/