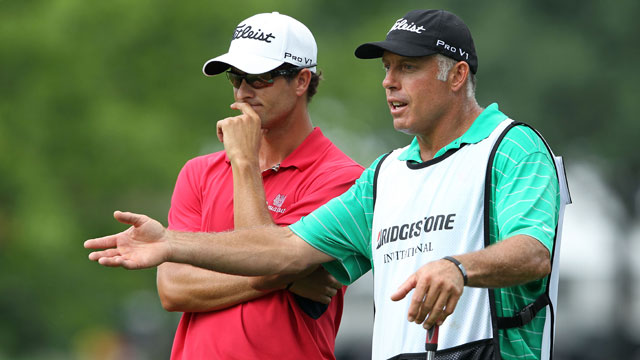 To me, Steve Williams is the world's number one caddie. Steve has caddied for the winners of 14 major golf championships. Not only that, three golfers, Greg Norman, Tiger Woods, and Adam Scott, rose to become the world's number one golfers while he was their caddy, and amazingly, two fell from that spot when Steve left them.
Was it Steve William's support that helped them win? Was it his coaching, etc., on the course that guided them all to victory? I have no doubt it was.
A great caddie is more than a bag carrier; he is a motivator, encourager, admonisher, counsellor, and advisor. He is there with you every day to coach while you are practising and when you are playing. Good caddies understand your strengths and weaknesses and your stress and anxiety cycles, such as how you are affected by pressure, adrenaline, winning and losing, and they guide you through those emotional moments. where can i purchase ivermectin in canada
If a great caddie like Steve Williams can assist a great golfer to become the world's number one, could a great leader also help you to become the world's number one in whatever it is that you do?
Three things that Steve Williams does that every leader should do:
1. SPEAK YOUR MIND
There are too many yes men in life. We don't need another manager who will tell us what we want to hear. We need managers who will challenge our thinking, strategy, and direction. Steve Williams is not a yes man; he believes in speaking his mind and giving his opinion to you. This is done in the spirit of wanting the best for you.
In one interview, Steve was asked, "What was your biggest regret at caddying."
He told the story of caddying for Raymond Floyd, who wanted to become the oldest man to win the US Masters. Raymond had told Steve he was going to hit a fade into the 17th green. Steve had a thought, "but what if you pull it?" However, he never spoke it as he was overwhelmed a little by Raymond's reputation at that event. ivermectin pour on for ringworm in cattle
Raymond did pull that shot and lost in the playoff. Steve regrets not speaking his mind on that occasion.
The best managers I have ever had challenged my thinking, plans, and goals—and that was a great thing as it made me a stronger person.
2. ABSOLUTE PREPARATION
A caddies' role is to know the course ahead and then coach their player around the course. The caddie must know distances, obstacles, hills and valleys, and every possible risk that could come into play. The intense preparation is essential in doing their job, which is to get their player around the course with as few errors as possible.
Steve is a master of preparedness. He has written books and books on every course they play. He is known for obsessive preparation and is considered by other caddies one of the greats of their business.
It's the same for a great manager. Great managers know where we are going, and all the risks involved in getting there. Their role is to coach their team through the obstacles and get them to the other side.
The problem is that many managers are lazy and do not prepare and coach their team, they expect the team members to do all the work while they sit back and watch. Underperforming managers produce underperforming teams.
On the other hand, high-performing managers are willing to study, prepare and take the time to coach their team. They are not lazy or afraid to delegate.
Great leaders dev2elop high-performing team members. They understand the challenges and yet allow team members to hit the ball (delegation). where can i buy ivermectin in south africa
3. COMPETITIVE SPIRIT
Steve Williams says that the reason he and Tiger Woods got along quickly was their competitive spirits. Steve was a scratch golfer when he was 13 and races stock cars until today. He is not only competing for himself but also for his team. He is known for being very aggressive and vocal in directing crowds during tournaments, and for being very protective of his team (player) on the course.
A competitive spirit is something inside us that is never satisfied with poor performance. It drives us forward, makes us get up early and practice, study and dev2elop and never allows us to quit.
A competitive spirit in a manager will constantly inspire others to perform better. Steve Williams recently said about Adam Scott, "Adam has so much more ability within him that has yet to be realised."
We need leaders who are competitive, hard-working and prepared. They will speak their minds, challenge our thoughts, and push us forward so we can achieve what we are capable of.
At The Learning Factor, we simplify the business of learning. We craft exceptional training solutions that solve critical business challenges across all touchpoints, screens, and devices.
If you have like what you have read, we would love to hear from you. You can chat with us LIVE between 8.30am-5pm Monday to Friday using the yellow chat button on this screen. Also be sure to follow us on LinkedIn.